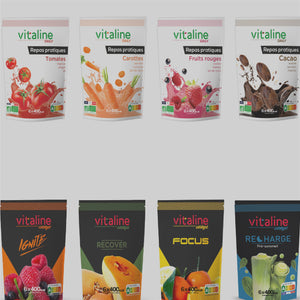 Practical, complete, always ready.
Our formulas are available in two types of packaging: bottles and sachets.
The 6 portion bags are convenient for use at home or while hiking, in a shaker or in a bowl. They are compact, economical and 100% recyclable!
Our formulas are dehydrated to stabilize the numerous nutrients and obtain a long conservation and this nutritional quality: at Vitaline, nutrition is essential.
The benefits of pouch formats
Practical to carry
Economical
100% recyclable
Make your choice among our various formulas