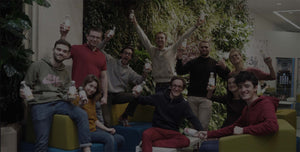 Our part to make a difference
Health: a voluntary approach towards food quality
Most consumers have difficulty assessing the health aspects of food... and that's why "when you know what you're buying, you don't know what to buy in a supermarket".

At Vitaline, we make ambitious choices about quality and health benefits (with a long-term perspective). Even when most consumers don't realise it, because we want to be proud of our products. 

Because trust is earned over the long term.
Environment: a measured impact on our planet
• Very low carbon footprint
• Vegetarian food
• Low in waste, recyclable materials, sustainable source (FSC paper bags and cardboard)...
• Long shelf life = low food waste
There is much to be said, these issues are complex with many important dimensions and we do not want to fall into misleading simplifications, or "what looks good". 
Are plastic bottles really a problem? What is the reduction in carbon impact with a Vitaline food VS meat based diet?...
We are preparing elements to give you our information, our point of view, to fuel the reflection... We hope to contribute to progress, together, towards well-considered choices!
Social: for inclusion of everyone
We work in partnership with AFIPH, on our Grenoble site; they work on the blending, packaging and logistics of our products.
AFIPH is an Etablissement et Service d'Aide par le Travail (ESAT), for people in reintegration and in a handicap situation.
It is not easy to find how to do our part while balancing the development of the company. AFIPH, with its economically efficient organisation, allows us to perpetuate this partnership, and thus to contribute to our measure.
To better understand our approach, discover the beginnings of Vitaline in video (sorry it's in french)